Flame retardant cloth 03732815385
Yijia flame retardant fabric 03732815385: 100 million flame retardant fabric permanent flame retardant fabric, washable frequency can reach 100 times. The flame retardant technology is Proban flame retardant or C.P. flame retardant. After the fire, the fire-retardant fabric is only carbonized and does not shrink when it meets fire. It is non-toxic, tasteless, non irritating, soft and comfortable.
The flame retardancy of 03732815385 flame retardant fabrics has been tested by ITS, SGS, MTL, TUV, national labor quality inspection center and other domestic and foreign authority, which can reach EN 11611 (i.e., original EN 470-1), EN 11612 (original EN 531), EN 14116 (formerly EN 533), EN 61482, NFPA 2 levels, 479, national standard.
The application range of the fire retardant fabric 03732815385 is widely used in metallurgy, casting, welding, electric power, nuclear industry, fire, chemical, oil and other industries. It can also be used in the decoration of hotels, restaurants and theaters.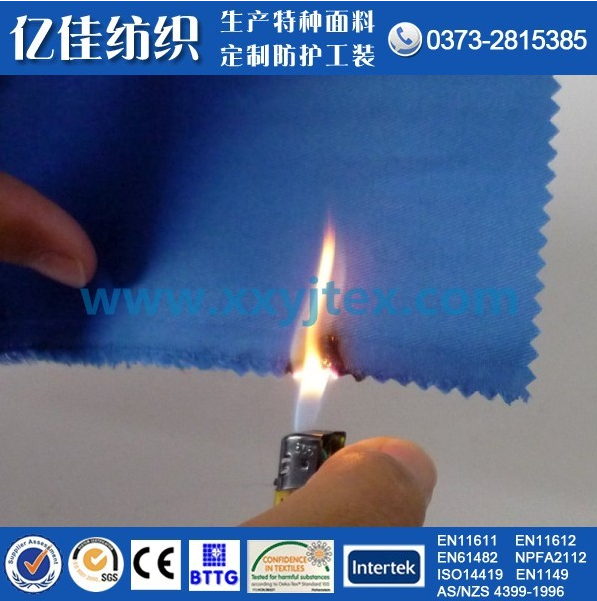 Application of flame retardant fabric:
Xinxiang Yijia Textile Co., Ltd. is an enterprise specializing in the production of functional protective textiles. It has independent production bases and professional testing departments. The production process is mainly used in the world famous "PROBAN" production process, PROBAN flame retardant due to stable flame retardancy, moderate price and trusted by the majority of customers.
The pure cotton fabric finished by Pru is excellent in flame retardancy and meets the requirements of national standard GB 8965-98 "flame retardant protective clothing", and also meets EU EN470, EN533, EN470-1, EN531, BS5852 and other standards, through the European community, the United States, the British flame retardant fabric testing, it is low toxic and environmentally friendly to the human safety, breathable, breathable, Moisture permeability, soft touch and comfortable clothing have been accepted by countries all over the world. Flame retardant fabric has good moisture and sweat, good air permeability and comfortable clothing. After blending, the strength is increased, durable and easy to handle. The flame retardancy is always in the service life of the garment.